Fitting accessories for the FORCE ONE
Reliable and speedy direct fastenings for your most common applications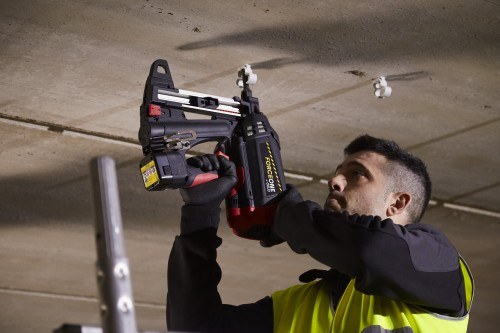 From fuel cells to metal washers, steel nails to nylon clamps, we provide a wide and growing range of specialized nails and accessories for the FORCE ONE nail gun. Browse below our selection of time-saving accessories.
Main accessories for FORCE ONE
High-performance fuel cell with optimal shooting performance for a minimum 800 shots.
Premium collated nails, reinforced with serrations to provide the optimum grip on hard materials like concrete and steel. One box of 800 nails comes with one FORCE ONE Fuel Cell.
Accessories for supporting cables, conduits, and ceiling hangers
Designed for a quick installation of steel wire attachments on ceilings, the clip can be installed in a matter of seconds when using a nailer. The clip can hold loads of up to 66lbs and can hold steel wire or cables up to 1/4" in diameter.
Fix anchor rods to the ceiling in 10 seconds. The special design has a plastic part that you just clip onto the nose of the nailer and install. The hanger can support loads of up to 66lbs when being installed into concrete.
A quick-mounting option for fixing cable ducts, foils, sealing membranes, fleece, and much more! The metal washer is fire approved and has a load capacity of up to 66lbs. 
Fix conduits, steel, or copper pipes to a variety of base materials and working surfaces. The strap is zinc plated to prevent corrosion and can support runs of AC, MC, or FMC. Metal washer is required when installing with a nailer.
Benefits of installing with FORCE ONE accessories